Since the pandemic, remote work has become the new norm. Companies now prefer to work hybrid or remotely to cut costs or relieve their employees of the stress of commuting daily. Whatever the reason, we can expect this remote work trend to continue to grow for a while. However, as sweet as working from home sounds, you need to learn how to manage your workflow effectively to reduce distractions and be productive. You don't just need to have fast internet or be disciplined to get work done; you also need to be able to manage your time and processes to set yourself apart from your competition. As a remote worker myself, I'll share practical ways that I've been able to manage my personal workflow with little or no risk of burnout.
Set Up a Convenient Workspace
This is the first step to being productive or maintaining a good workflow as a remote worker. Some might say, "but I work from the sitting room table or the kitchen table, and it's convenient." Yes, it is convenient for now, but truth be told, "how many hours do you spend working in the sitting room before you switch to your favorite TV show because it's time and you can't afford to miss it?".
One of the things that I have learned over time about being productive is the act of creating a separate space for every habit that one wants to maintain. If you want to sleep well, ensure that your bed is only meant for sleeping, the same way the couch in the living room is meant for relaxing or the workspace in your bedroom or study room for working. When we separate these actions and the spaces meant for them, our brain automatically registers them, and it becomes easier to keep to that habit— In this context, sitting down in your workspace for hours to work.
Have a Consistent Routine
Yeah, this sounds easy, but it's arguably one of the most difficult things to do, especially if you work from home and live with your family. You have to consider wake-up time, family time, house chores, personal project time, and so many other distracting activities that might come in between.
If you live alone, keeping a routine might even be more difficult, especially if you are not disciplined enough.
One thing that has always worked for me is writing my routines on sticky notes and sticking them in obvious places in the house, so I get reminded of them often. Yours doesn't always have to be sticky notes; It could be time, an item, a location, or even a person. All that matters is that you use this unique item to trigger your brain to remember a task once you set eyes on it.
When you have a consistent routine, being disciplined about work becomes less of a headache because your brain has already adapted to the time you carry out each of these routines, and so have your family members or the people around you.
Set Up Reminders
"Don't try to remember tasks that you can easily delegate" —This is what I tell myself every time I forget to set a reminder for a task, and I'm struggling to remember what that task is. By delegating some important tasks to a device or app, you can reduce cognitive load and free up space in your brain for other important things. You do not want to be that employee that misses important meetings due to his/her forgetfulness. Everyone is forgetful at some point, so one has to be smart about it.
Use a Todolist App
The importance of having a to-do list cannot be overemphasized. Aside from the fact that it helps to boost productivity, using a to-do list app can help get you on the good side of your manager. How? By meeting up with deadlines every time you're assigned a task. Here's what I do.
I use an app called todoist to write my important tasks for the day and then set personal due dates before my official due dates for every task. If my manager gives me 2 days to complete a task, I try to ignore the official due date and set the due date for that task to 1 day instead. That way, I cannot procrastinate because the time is limited or I have tricked my brain into believing so. I get to finish my task before the due date, and my manager is impressed!
Store Files in The Cloud
If you are a remote worker and you still store important files on your PC in 2023, you are wrong! What happens when your computer crashes, or you urgently need to send a file to an employee, and you're not with your PC? As a remote worker, you need to start storing your files in the cloud for better management, access to your files from anywhere, security, convenience sharing of files with your co-workers, and easy collaboration. Most cloud services are available for free and are easy to use. They make your life all around easier. Some cloud services you can check out include google cloud, dropbox, and google Sheets.
Use a Project Management Tool
If you want to keep your work and brain organized, a project management tool must be used. Aside from the tool your company uses, you need to also have a tool to write down ideas, set personal deadlines, and track the completion of tasks. This way, you're better organized, more productive, and able to establish clearer goals. Examples of these tools include Jira, Asana, Trello, etc.
4 Tools You Need to Effectively Manage Your Workflow as a Remote Worker
The top of the list has to be milanote. If you often feel overwhelmed with ideas or tasks and cannot keep track of them, milanote is for you. Milanote is a sophisticated note-taking app that organizes creative ideas and projects into visual boards. While other note-taking apps focus on just taking notes, milanote focuses on the visual aspect of it and uses boards like Trello for structure. Your ideas can be organized into boards; each board contains cards for taking notes, checklists, an option to create another mood board, and so much more. It also supports different file formats, such as audio clips, photos, videos, and sketches.
When I first started using milanote, I felt a little lost because it comes on a clean slate until you create your own boards. But thankfully, each board comes with different templates based on categories (such as software development, agencies, film/TV, interior design, and so much more), and frankly speaking, these templates are awesome. They will help get you started however you wish to use milanote.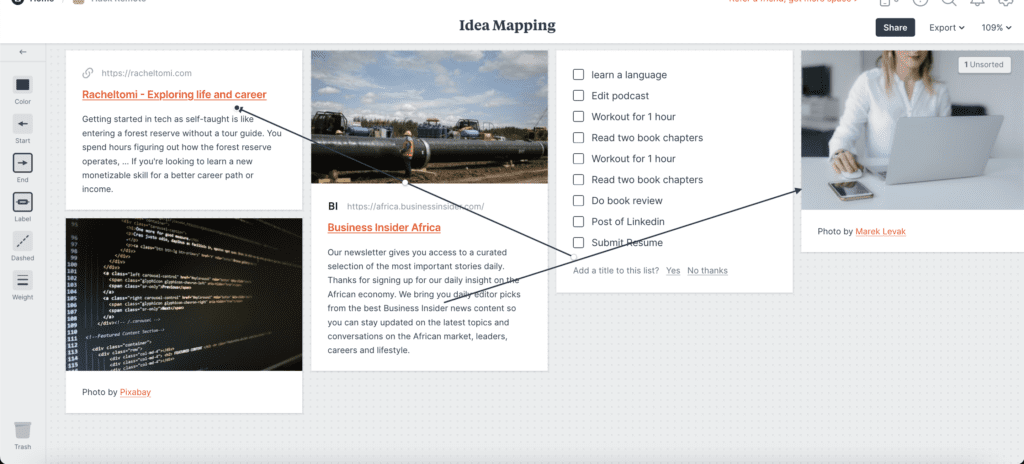 Todoist is one of the most important apps I use to keep track of my day-to-day tasks. With this task manager app, you can set recurring tasks that pop up daily, weekly or monthly, set reminders, and schedule future tasks using natural language.
Let me also let you in on a little secret. If you're struggling to maintain some habits, the todoist app is your go-to guy. I use the todoist notification feature to reinforce some simple habits I forget to practice daily. For instance, my recurring tasks might look like this;
Read a book chapter by 8:00 am every day
Take one lesson on Duolingo by 2:00 pm every day
Rest time is from 6:00 pm to 8: 00 pm every workday
These are all basic tasks I forget to do most times, but since todoist came into the picture, completing them has become easier.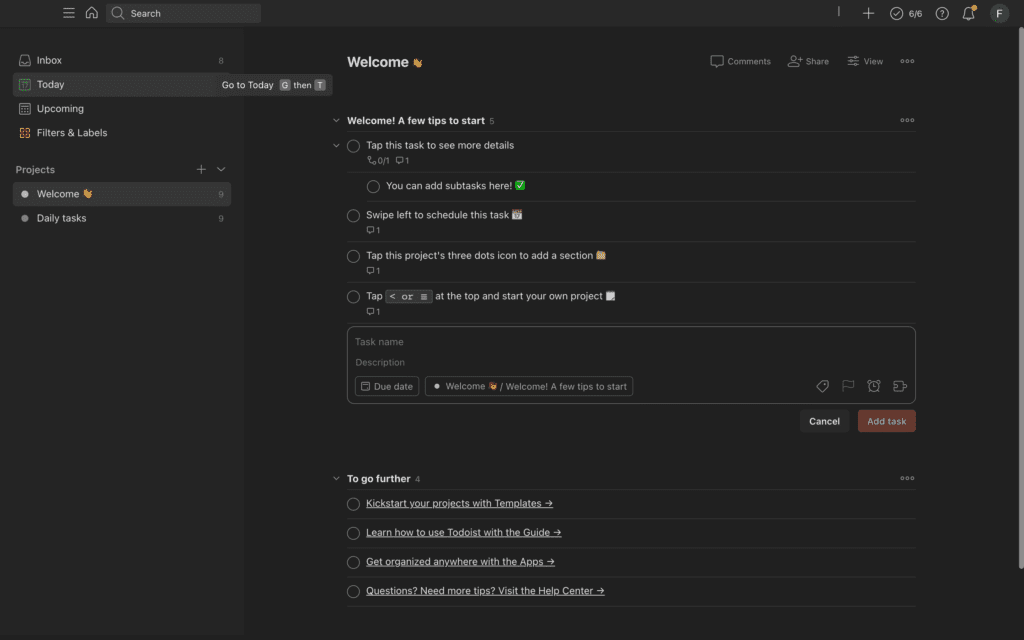 Trello is an advanced workflow management tool that uses interactive features to help teams and individuals manage projects, help to drive productivity, and keeps you organized. It has a beautiful, easy-to-use interface and movable task cards that can be dragged to the appropriate column as steps are completed. This tool is best for freelancers, solopreneurs, or entrepreneurs who oversee projects from ideas to execution.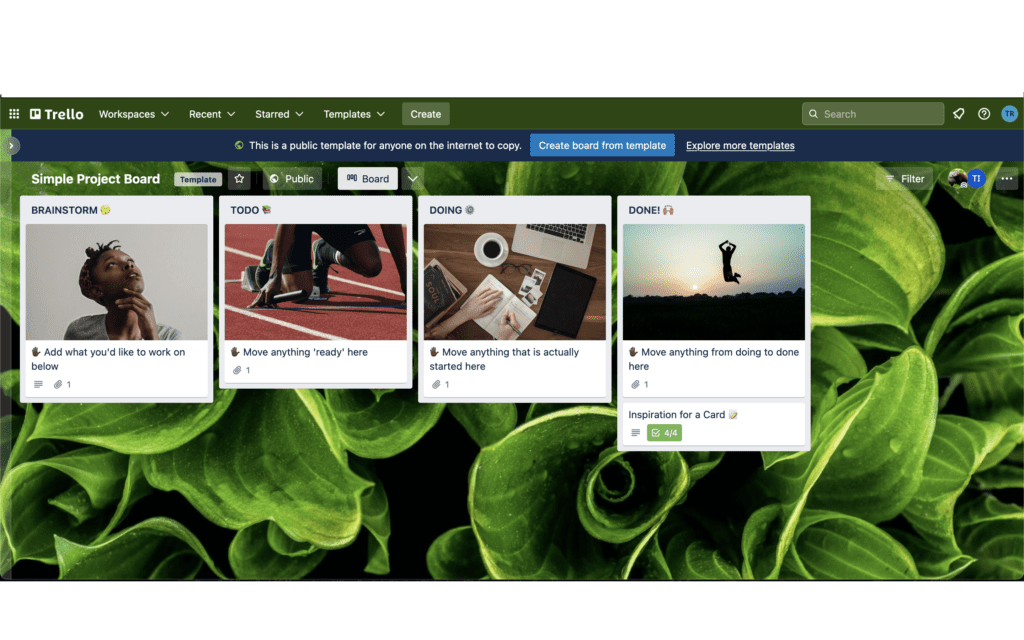 With google calendar, you can always know what's next on your schedule.
Google Calendar is a tool that helps to schedule meetings quickly and keep track of upcoming events and deadlines. You can create events and share your calendar with teammates, family, and friends. Trying to use all the features on google calendar can be overwhelming, so I'll advise that you take it one step at a time.
I personally use google calendar to only set important events, sticky notes to write down simple tasks, and a todoist app to set reminders for daily tasks. You have to take the time to find what works for you.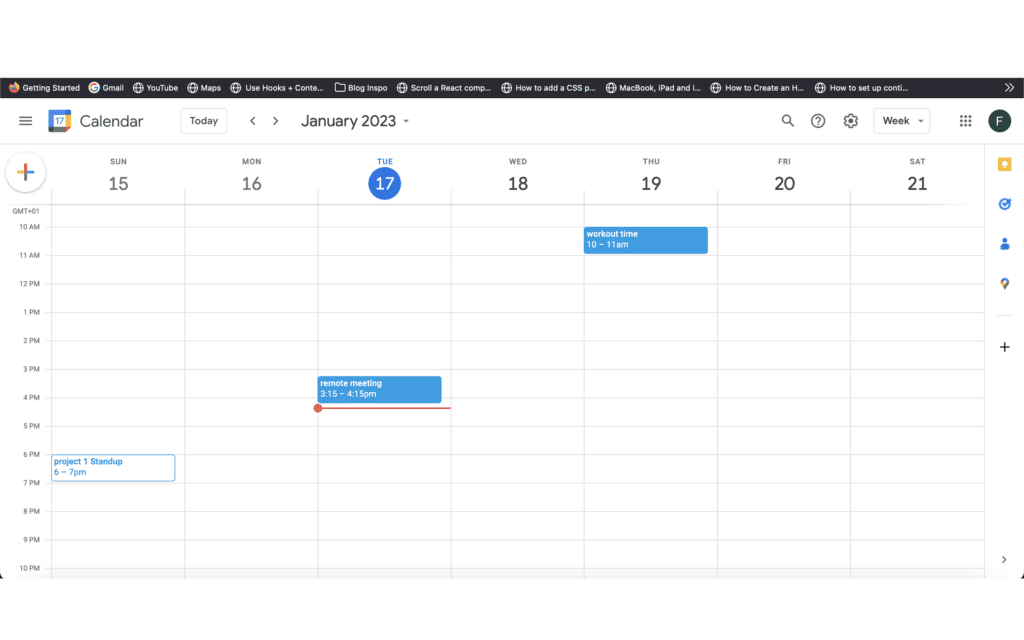 Final Thoughts
As much as we want to maintain a good workflow and be productive, rest is also important. You need to incorporate rest periods into your workflow. On my daily schedule, I have cooking time, Netflix time, time to read, etc. Including these break periods in your schedule makes you feel like you're in control of your time and helps prevent burnout.
Remember, "there is virtue in work, and there's virtue in rest. Use both and overlook neither — Alan Cohen"