If you've always heard people say, "I got my first job on LinkedIn," but you can't relate because getting recruiters to notice you is as difficult as a greek puzzle. Then, you've come to the right place. Chances are your LinkedIn profile needs an upgrade. And to set up a profile that ranks better and attracts recruiters, you need to learn how to optimize your LinkedIn profile for job search.
Why is Optimizing Your LinkedIn Profile Important?
Besides submitting your resume on LinkedIn job boards and having employers contact you, recruiters also find their desired prospects by searching for people with specific skill sets using the required keywords.
If you search the keywords "best African dishes" on YouTube, the probability that you will click the first page and then checkout afterward is higher than the probability that you will go beyond the second page. The same thing happens on LinkedIn. Your work history, media, posts, certificates, skills, and other components determine whether the algorithm will point like-minded people to your profile. This is why you must ensure that your profile ranks higher on LinkedIn searches.
How to Make Your LinkedIn Profile Rank Higher on LinkedIn Search
Add a Professional Profile Picture
Compared to other social media platforms where having a profile picture is either unnecessary or insignificant, LinkedIn is a bit different. Here, your profile picture is one of the things that attracts people to your profile. It gives them a visual representation of who you are or what to expect. Recruiters scroll through hundreds of profiles daily, so if you upload a blurry profile picture or one where your face is too distant, you might not get a chance.
Here is an example of a good professional headshot;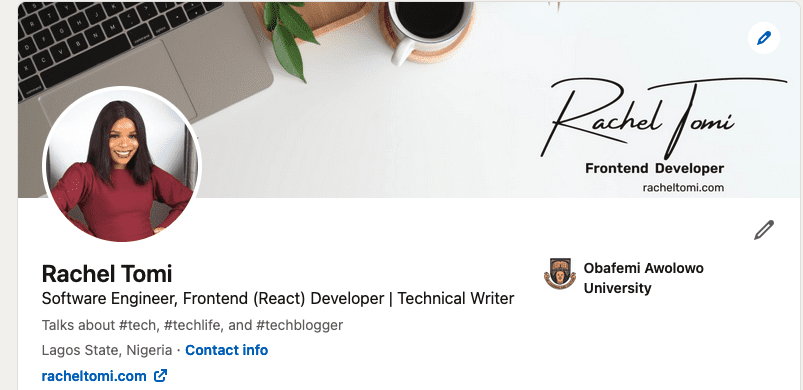 If you have a picture taken by a professional photographer or can afford to pay for one, please do that. But if you do not have access to one, you can learn how to take a professional headshot from home in this article.
Create a Keyword List
The next thing to do is to identify keywords relevant to your industry. You can play around with keywords using the LinkedIn search bar. Type a relevant keyword and then note the other related keywords suggested just below the search bar. Those auto-generated keywords are the high-volume keywords people search for.
Note down all of these keywords and write them in a notepad. These noted keywords are going to be inserted naturally throughout your profile.
Create a Keyword-Rich Headline/Title
Your profile title immediately tells people what you do and how you are willing to help them—Ensure to make good use of it. If you are a frontend developer but "frontend web developer" is the most used keyword in your field, insert that in your title instead, provided the two roles means thesame thing.
Here's an example of a great LinkedIn title;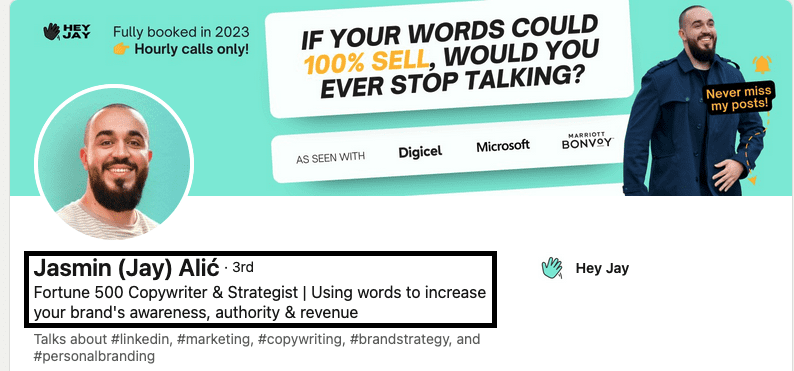 Jasmin's headline works great because it contains two important things;
His job title (Copywriter and strategist), which is the major keyword here and;
How he can help brands achieve their goal.
This is all you need for your headline to rank better.
Avoid Using Self-Sabotaging Words
I know imposter syndrome sets in while starting out, but refrain from using words like "junior" backend developer or "aspiring" digital marketer in your headlines. Using these words is self-sabotaging and will only limit you from getting the opportunities you deserve. Recruiters can already sense how experienced you are from reading through your profile. You don't need to spell it out for them. Be confident in your skill and let the recruiter decide whether you are a junior or not.
Write a Killer LinkedIn Summary
Your LinkedIn summary is one of the most important sections of your profile. If you do not know what a LinkedIn summary is, it's the section at the top of your profile that has the "About" title.
Why is this section important?
It summarizes your whole experience.
Inserting keywords naturally in this section makes your profile searchable.
It helps build trust with your audience and those who want to connect with you.
LinkedIn gave you over 1500 characters to fill in this space for a reason: It's a chance to sell yourself and tell your story to those looking to work with you.
The first paragraph should immediately state what you do and what you are willing to offer.
If you are not sure what to write, assume you're a recruiter looking to hire the best candidate for a job, and you happen to stumble on your own profile. What are the first few things you will look out for? The profile picture? The experiences? Projects?
Ask yourself what your credibility is. What stands out about you? Why are you doing what you are doing? Jot these things down, finetune them, and paste them into your "about" section.
Here's an example of a great LinkedIn summary;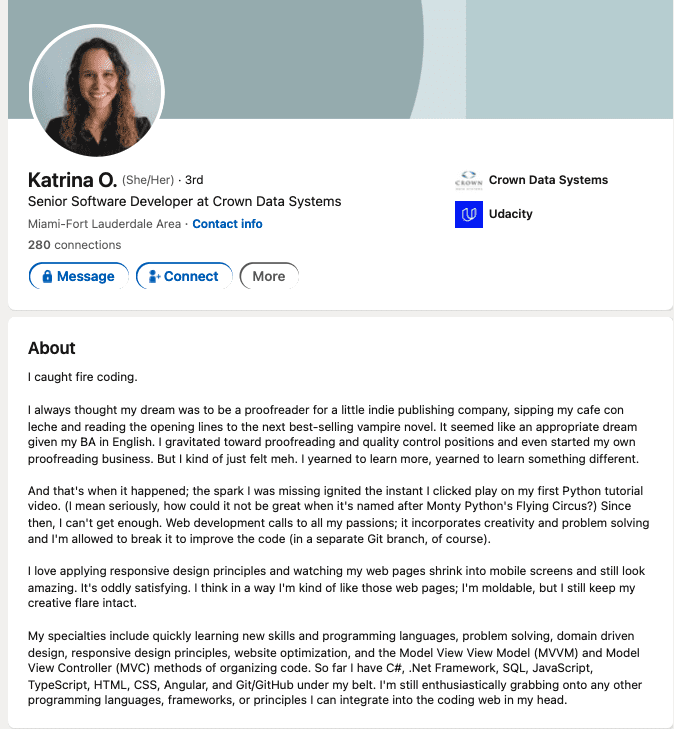 Katrina's summary is engaging and makes you want to learn more about her. The first line, "I caught fire coding." is provocative and makes you want to read further. She then stated her love for coding, experiences, and technologies.
Yours doesn't have to be this lengthy. You can tell your story in a different way. State your skills, experiences, and achievements in a succinct manner. Whatever rocks your boat.
The most important thing is to state what you are skilled at and how you can help your readers achieve their goals.
Emma Galli's LinkedIn summary is an example of this.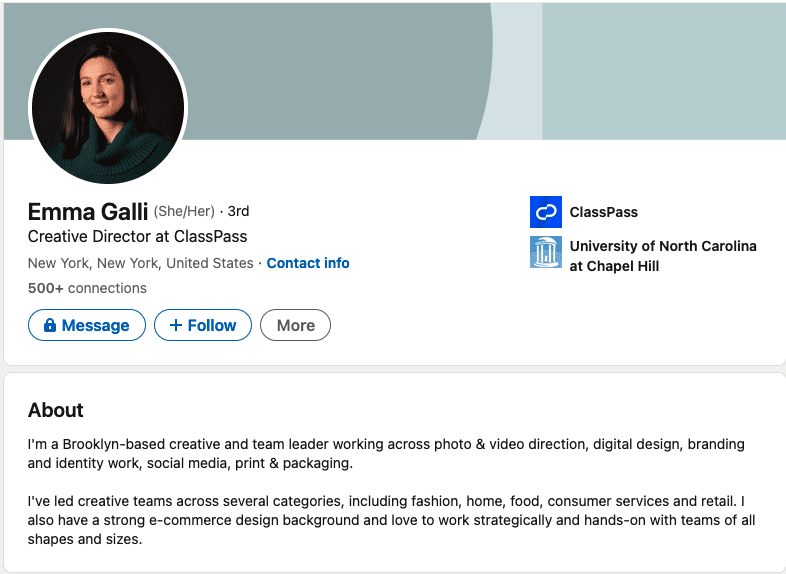 As you can see, she immediately gave her readers a clear idea of what she does by stating her skills and expertise in an instant, concise manner.

Optimize your LinkedIn Experience Section
Now that we've successfully created a rich profile picture, title, and summary, let's move on to the experience section. This is another important section recruiters often pay attention to. It shows how experienced you are and whether your roles align with what the company currently needs. So, if you've often just filled in the company, title, and the dates you've worked in the "experiences" section, that's okay, but you need to do better.
The job description box helps tell whoever visits your profile what you've done for those companies. Any major achievements while working there? What technologies did you use in performing your tasks? What were your roles? Break them into chunks, and don't forget to sprinkle some keywords so your profile ranks better.
Don't worry if you have no experience working with a company. Include solid projects you've worked on and clearly state your role and how you achieve your result. All recruiters care about is that you are good at what you do and can deliver.
This is just like a mini-resume, so be happy to optimize this section to reflect how experienced you are with the necessary skills.
Set Up the Featured Section
Publishing long-form content, speaking at conferences, and maintaining an active blog, are all signs that you are good at what you do, and this section is where you can showcase all of that. It allows you to showcase your best work, demonstrate your expertise and position yourself as a thought leader in your industry.
This could be a post, a link to an article you wrote, an image, or even a pdf, just about anything that gives you credibility.
Ensure that whatever is featured here has to do with your service or skill, and you are good to go.
And that's it! You've successfully optimized your LinkedIn profile.
Is LinkedIn Optimization Worth It?
LinkedIn optimization, if done the right way, is a great way to land your next role if you're job searching. I understand that taking time out to set up your profile properly is a lot of work but believe me; it's worth the stress. If you want to start seeing results, you have to be proactive and ready to take control of the situation.
Best of luck!