It's no longer news that remote work is growing fast. As much as the usual 9-5 jobs are still relevant, there are also tons of reasons to search online for remote jobs nowadays. Whether you're a stay-at-home mum looking to work and spend quality time with the kids, or you probably don't want to deal with the daily stress of beating traffic, especially if you live in a busy city like Lagos, Nigeria. Whatever the reason, look no further. I have compiled a list of the best platforms to get remote or freelance opportunities in companies anywhere in the world.
Top Platforms to Find Remote Jobs
Remotive

Remotive makes it easy to search for remote jobs in specific countries or worldwide. This site offers a variety of jobs from a huge range of industries, such as medical, teaching, business management, software, sales jobs, etc. The best part is that these companies have already been vetted, so you don't waste time on fake job alerts. Also, they have a blog where they provide tips on hiring, job search, and remote work.
Some jobs are only available in specific locations, so if you do not want to see that, you would have to check the worldwide checkbox.
Remote Hunt

Rather than the usual role-focused way of listing on job boards, Remote hunt focuses more on providing a detailed understanding of the different companies and countries in which they operate. This platform offers job seekers the opportunity to learn about the benefits and work culture of the company to which they are looking to apply. You also get to see whether such a company operates in your location or not.
Remote Africa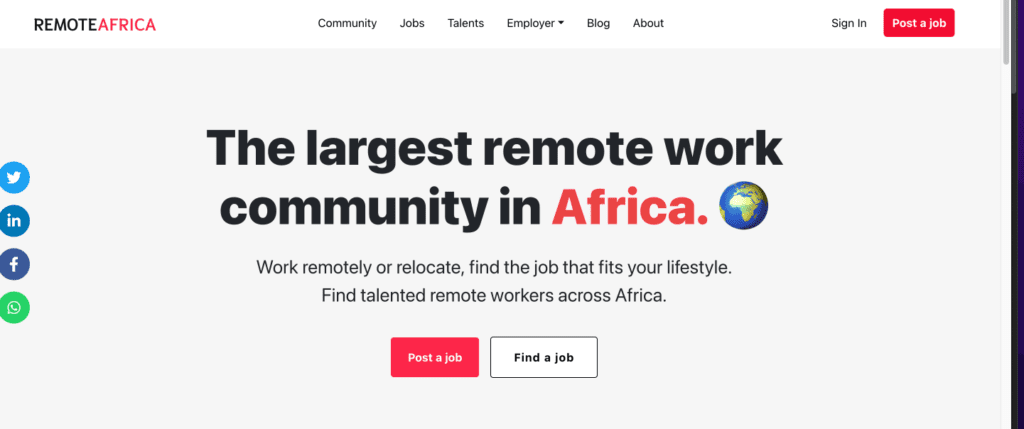 Remote Africa is a remote work community in Africa for Africans. This platform provides an easy way for Africans to get their dream job and also get recognized by companies worldwide. Companies are allowed to look for talents around Africa by posting their job requirements. In contrast, job seekers, on the other hand, register on the website to get listed on the talent page and get invited by companies whose requirements match their skills. The most interesting fact about this site is that only companies ready to hire worldwide are added to the job board. So, you do not need to worry about whether a company hires only from certain countries or worldwide. They also have a slack community where jobs are posted frequently for easy access. You can join here.
LinkedIn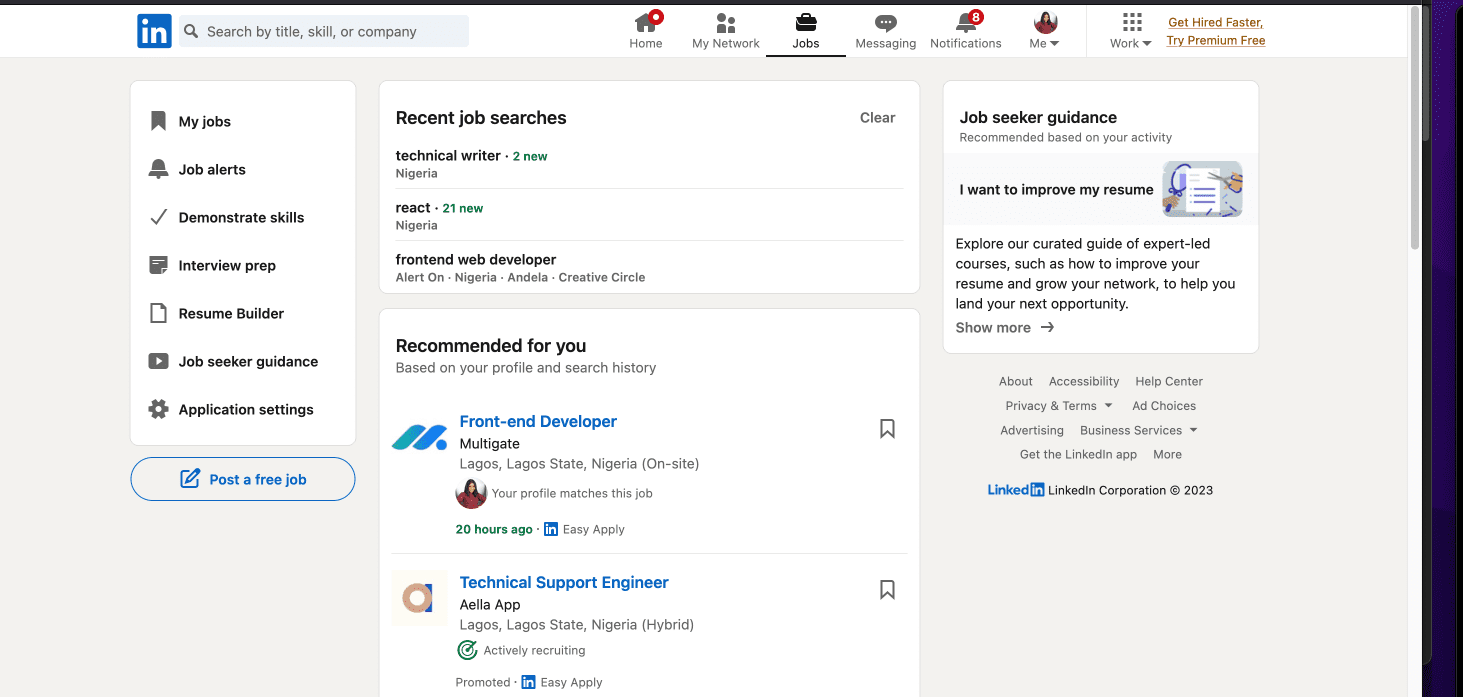 It's no news that LinkedIn is one of the most popular job sites providing an easy way for job seekers to find their dream jobs and connect with hiring managers. LinkedIn has an option that allows you to filter available jobs based on the company, location, and job title. One of the best LinkedIn features is the "easy apply" for submitting applications using your LinkedIn profile as a resume, provided your LinkedIn profile is properly optimized for job search. This makes job application easier and less time-consuming.
Daily Remote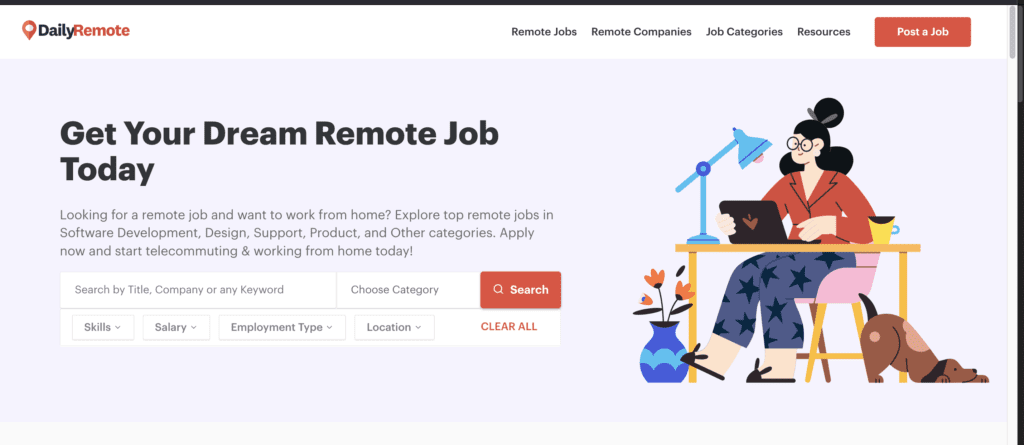 I came across dailyremote on Twitter. They frequently post remote job openings on their Twitter feed, so I checked them out. Daily remote is nicely designed in a simplistic manner to aid navigation. There is a category to search for remote jobs and another to search solely for remote companies, in which you might further look into the available roles in that particular company. There's also a menu that allows you to filter jobs based on the category you want easily. The dailyremote team is very particular about the jobs' authenticity, so you can be sure to avoid scam jobs.
Behance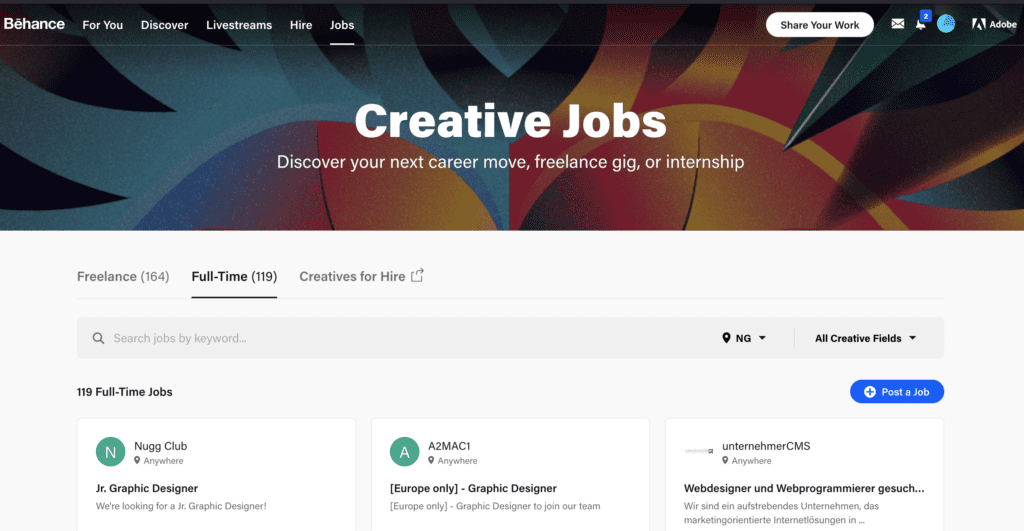 Behance job board is one of the best places to apply for jobs if you are a creative. Whether you are a 3d designer, mockup creator, logo designer, or video editor, there's a job for you. You can get both freelance and full-time remote opportunities depending on your needs. They provide detailed information on every role, including job description, location, and job type. Here, it is advisable to have a Behance profile because your application will be submitted alongside a preview of your Behance profile and recent projects, so make sure to upload your best ones.
We work remotely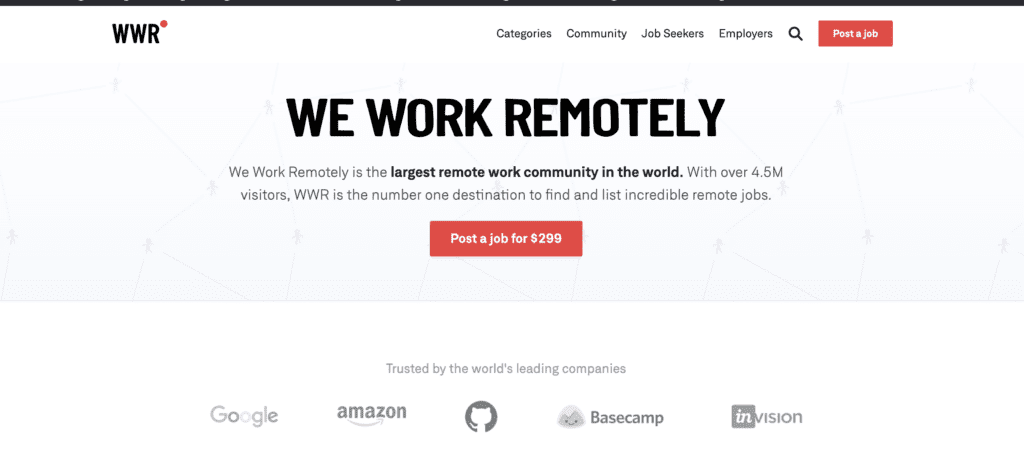 Weworkremotely is another remote work community with over 4.5M visitors. Here, you can find contract, freelance, and full-time positions depending on your preference. They have a community that supports job seekers and educates them on the best remote work tips through their blogs, podcasts, and newsletters. You can also join their slack channel to connect with other job seekers and receive first-hand information on new openings. In terms of user experience, the website filter feature is not the best, but the categories option in the menu works perfectly.
Remoteok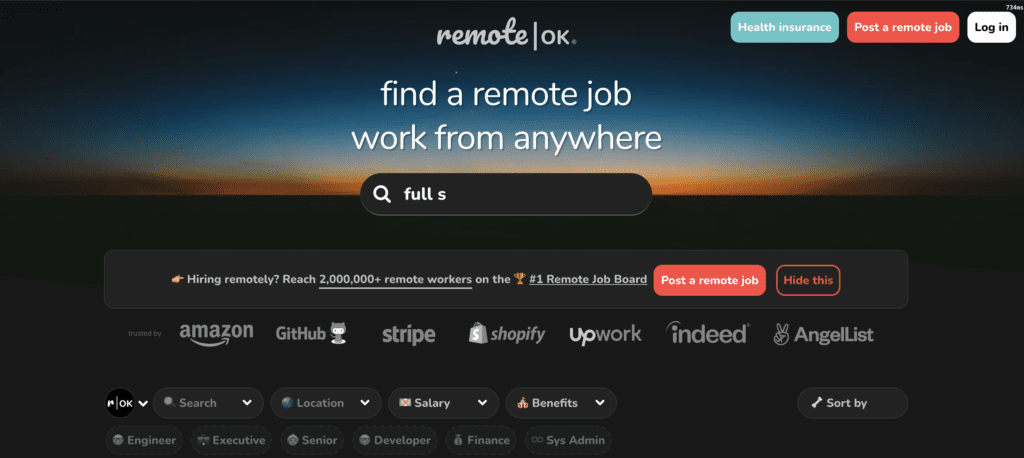 Like the other sites mentioned, remoteok allows you to find remote jobs and work from anywhere. You can filter the list based on the type of job you want, location, salary range, and even benefits. It's definitely worth checking out.
Best Freelance Websites to Find Work
Toptal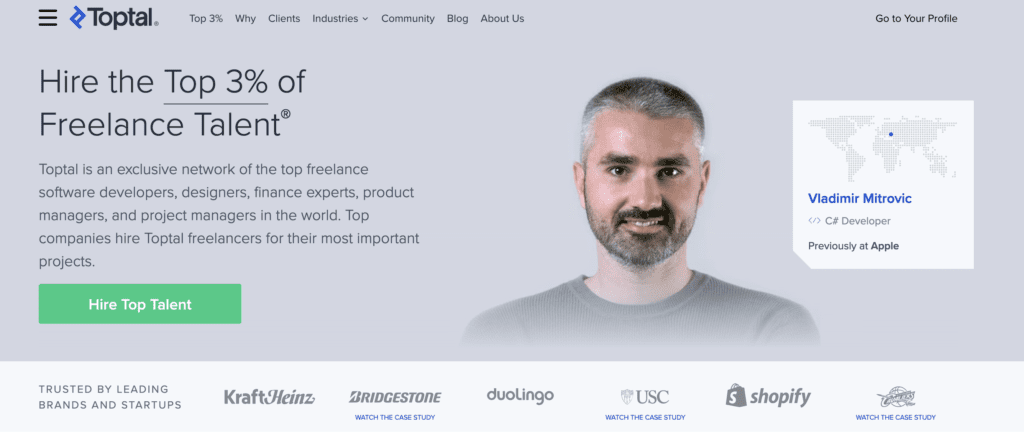 Toptal is a platform that connects companies to freelance software developers, designers, finance experts, product managers, and project managers around the world.
Basically, companies come to Toptal for their projects, and Toptal connects the company to a freelancer from their talent pool.
Making it into the talent pool is what people consider difficult. Toptal's vetting process is rigorous and can be a bit challenging for people with no experience.
Even though registration is free for freelancers, top applicants would have to go through a five-step interview process to get in;
The language and personality interview
In-depth skill review, where your technical knowledge and problem-solving skill is tested.
Live screening
Test projects and;
Continued excellence
The best part about Toptal is that they handle the client and payments for you. Once you are able to make it through these stages, the rest is history.
Contra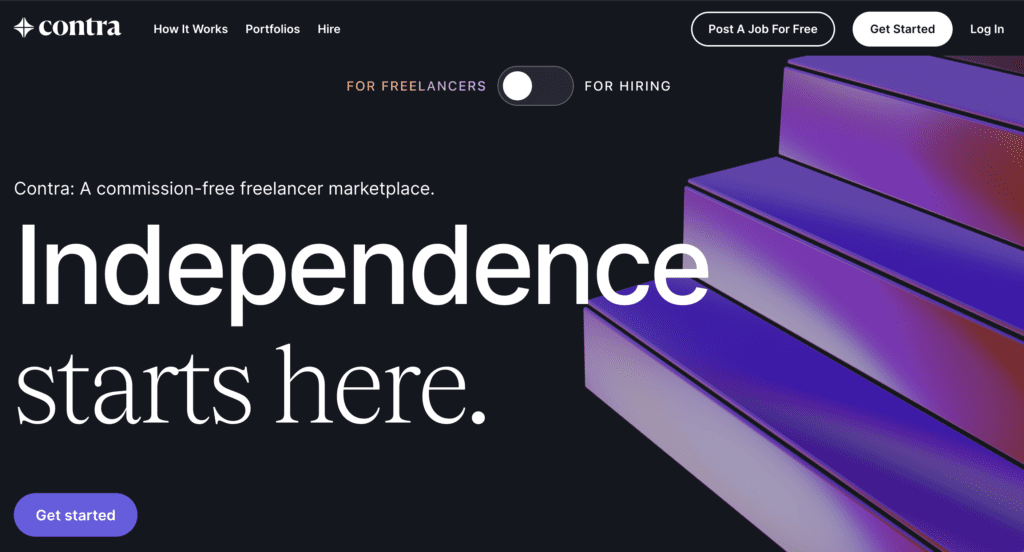 Contra is a freelance commission-free platform that allows freelancers to create a digital portfolio, get flexible remote opportunities, and earn money from companies all around the world. They feature jobs in industries such as design, marketing, engineering, social media, and writing. What are the benefits of creating a contra profile?
A free digital portfolio
No percentage is taken from your money.
Free publicity.
Contra has a clean user interface (UI) that makes you want to set up a profile immediately. Setting up a profile requires a significant upfront investment, but if done well, it might be a good way to showcase your work on or outside the platform. It's relatively new and has a lower volume than other already-established freelance sites, but seeing how much work the team puts into the project, it's worth trying.
Upwork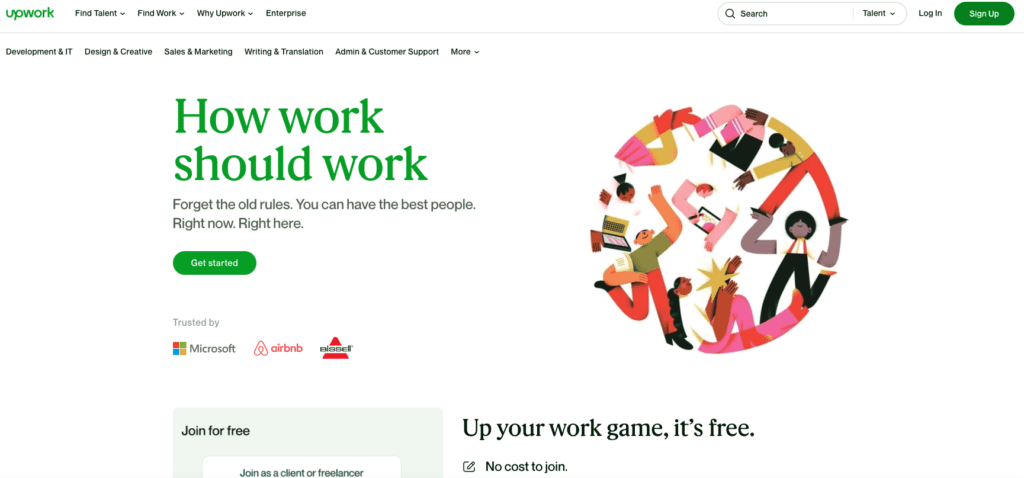 Upwork is a popular freelance platform that connects talents with businesses. This platform features jobs in different categories: design, development, sales and marketing, admin support, customer service, etc. So, if you're skilled and looking to earn extra income, Upwork is for you.
To get started, you will need to create a detailed profile that will serve as a mini resume. Include facts about yourself and your skill, verify your account, and then search their platform for jobs that match your skillsets.
You will have to send proposals to these businesses, and if your skill matches what the business is looking for, you are good to go.
The downside to this is the competition. You might have hundreds of talents competing for the same position you're a fit for, which might reduce your chances of getting hired. This is why you have to ensure that your profile, samples and proposal stand out.
­­­­­­Fiverr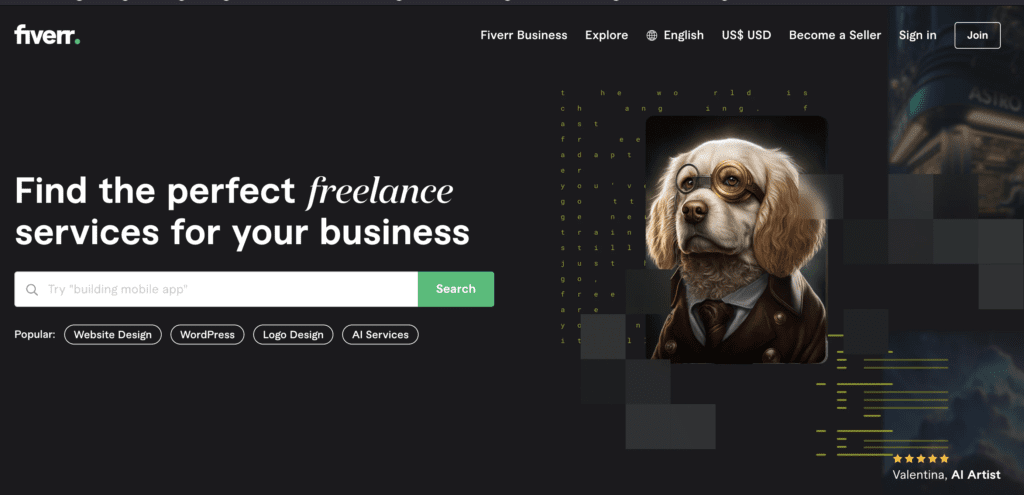 Fiverr is an online marketplace where freelancers can list and advertise their digital services to businesses all over the world. The platform focuses on small quick jobs called "gigs." You set up your gigs and wait for businesses whose needs match your skill to contact you. If you want to offer more than a skill, you can set up different gigs for them and start selling as soon as a business reaches out to you.
The downside is Fiverr's ranking system. Fiverr's search algorithm ranks gigs that are set up with SEO in mind, good conversion rate, good gig title, and description, and have enough good reviews. If your gig is not on the first few pages, you might not get noticed by anyone. If you're a new seller, the best thing to do is to build enough credibility by taking jobs with lower pay to get good reviews or send offers to buyers who post a request. And you can start building your profile from there.
Final Thoughts
Everyone has different needs and will eventually have to decide what's best for them. Whether it is freelancing or a full-time or part-time job, the competition out there is stiff. You will compete against top talents for the same position worldwide. It might be difficult, but not impossible. All you have to do is put in extra work to stand out.
The list above is not the only list of websites you can get remote jobs from, but they are the most favorable to Africans I've seen. If you know anyone not listed here, kindly share them in the comments.